Collecting or Investing?
Antique Dealer Advice
Most of the time we consider value to be a synonym for money. The question, "What's it worth?" almost always leads to a dollar amount.
But value is actually more than money. Much more. I was listening to a friend complain that his train collection was going down in value, and started thinking about values. He is talking about dollars and cents. I am thinking about non-monetary values.
I have a collection of record albums I put together when I was in High School. I recently saw an album on the Antiques Roadshow appraised at 10-12 thousand dollars. I paid five dollars for mine. What an investment!
You read that right - ten to twelve thousand dollars. Unfortunately, I sold mine for $200 in 1978 because having a desirable cover meant nothing to me. I am talking about the Beatles butcher block cover. After selling the album, I bought a bunch of other records. All of which I still have and combined are probably worth about 10 dollars today. Certainly not a good investment from a monetary perspective!
This is important. To me the value in my music collection was in the listening, not in the dollars the disks represented. I probably invested 5-6 thousand dollars in my records during the six or seven years I was buying them. They were never considered an investment, just recreation. Today the whole collection might be worth 300 dollars.
As an investment I didn't do very well. However, as recreation I got much more than I paid for. I have spent thousands of hours listening to my records. I don't listen to music much anymore, but anytime I feel inclined, I can drag out an album and connect to my childhood.
In fact, about 10 years ago when I was first dating my ex we dragged out all the old albums and listened to them. This was a great way to get to know each other and a lot of fun. (She had terrible taste in music - maybe I should have taken that as a warning?)
Anyway, I do not feel bad about the lack of monetary value in my record collection. I see a lot of people who consider their collections as a representation of dollars. Like my friend who considers his trains to be a part of his retirement fund. This is sad because it ruins the emotional power of the items.
The enjoyment has little to do with the worth.
This is how I feel about my trains. I go through phases where my greed causes me to keep everything I get, and then I reassess the items I am keeping and thin out the collection a bit. I sold some items last week on eBay for less than I paid for them. I wanted them at the time, and decided I no longer wanted them, and listed them with no reserve.
As an investment this is not too smart, but as a collector, and accumulator of neat old items I am having fun.
Consider this example. I went out to dinner a month ago with an attractive woman. We had a good time and I spent about 50 dollars on the date. I haven't gone out with her since and won't again, so basically I have nothing to show for the money. But I do not regret it or consider it a loss.
Why should it be any different when I buy a toy for my collection?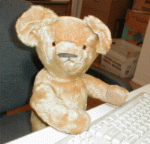 Check out my Teddy Bear on the right. I do not know what the bear is worth, and like it that way. He sits above my desk and every now and then I look up at him and feel good. He is not an investment, although he seems to be popular with Teddy Bear collectors.
This is what collecting is about. Surrounding yourself with items you enjoy.
Investing is different. Investing is about taking risks with money in order to get a return. When collecting, the acquisition is the return. Having and enjoying items is the reward.
The biggest danger of being a collector/dealer is starting to see everything in dollar terms. Seeing only the monetary value of an item neglects the emotional value. See Avoiding Eleven Common Mistakes Made By Antiques Dealers.
When we buy items, we think emotionally first, and then rationalize our decisions. If you doubt this - and many people argue about this- think about how cars are sold. With the exception of minivans sold as family carriers, most automobiles are sold based on emotion.
I maintain the fun in my collection by concentrating on the items I enjoy the most. It is quite common for people to start collecting toy trains based on what they had when they where children. Or rather, what they wanted to have when they were children. I think the majority of train collectors I know first received inexpensive bottom-of-the-line train sets for Christmas.
Perhaps the unfulfilled desire causes them to become collectors when they get older? All of a sudden they can afford the items, and they start to reward themselves. I am on a tangent so I will get back to the topic.
Remember the distinction between investing and collecting. When you buy an item to resell it, it is not an investment. It a business decision. Most antiques dealers mistakenly concentrate on inventory rather than cash flow.
In some cases seeking to build a large inventory is more about collecting than business. The business has become an excuse for building a collection.
If you are a collector, don't walk away from something you can flip for a quick profit, but don't concentrate on the dollar value either.
If you buy items you like for prices you can afford, you'll never feel bad about a purchase.
PS More information about the Teddy Bear. I got an email from a woman who collects Teddy Bears. She said he appears to be from the mid 1920s and is probably American made based on the football shape of the body. The woman I got him from said she was a birthday present in 1926 or 1927. He has squeakers in his paws - they still work! - which is unusual. I knew he was special when I found him. I still don't know what he is worth, but I get a good feeling when I see him sitting on the shelf. That feeling alone is worth more than I paid for him.

"The IWantCollectibles Guide to Ebay Sales"
is now available for immediate download.
---
Many of the articles and free reports here on IWantCollectibles were originally sent to readers of my Antiques and eBay Newsletter. Not all articles make it onto the website, and readers also get notices of free reports and special offers.
Most Popular Articles on IWantCollectibles