Skip McGrath Says Never Mind
Skip McGrath wants us to think he's Gilda Radner.
For those of you who are younger, Radner played a recurring character on Saturday Night Live named Emily Litella.
Every week, Litella read a prepared editorial addressing some public issue, becoming increasingly agitated as her review progressed, only to discover in the middle of her review that she had misheard what the issue was. A typical example:
"What is all this fuss I hear about the Supreme Court decision on a "deaf" penalty? It's terrible! Deaf people have enough problems as it is!"
When the on-air reporter interrupted to point out her error (death vs. deaf), she would crinkle her nose, usually say, "Oh, that's very different...", and then humbly say to the audience, "Never mind."
The words NEVER MIND became a slang term in the late seventies and early eighties. People said it when they made a mistake as a way of making light of their errors.
Now Skip McGrath wants to be able to review and promote a scam to his list, and then after it fails tell us that he didn't know what was going on.
The truth is ANY IDIOT could have fallen for this scam. Exponent Trading was designed to make people suspend doubts and part with their cash.
But it takes a DEDICATED IDIOT to continue to believe in the pipe dream despite concrete warnings. Even worse it takes a complete lack of ethics to continue to promote a scam like this.
Shortly after the program launched, I reviewed exponent trading. You can read that at Say No To Exponent Trading.
After I wrote my warning, Skip McGrath quickly attacked me with these words:
I am also getting questions about Terry Gibbs blast at Exponent. This has really surprised and disappointed me. There is so little information out so far on Exponent and Terry knows nothing about it, yet he decides to criticize it. I was going to write a response to Terry, but my friend James Jones beat me to it. If you are interested in learning more about the controversy, take a look at James' excellent post here: http://www.whatreallysellsblog.com/?p=61

James really hits the nail on the head. In my opinion, Terry is shamelessly taking advantage of the Exponent Trading buzz to build his list and make money for himself while criticizing something he knows nothing about.

As with anything new, the jury is still out on Exponent. But I am optimistic by nature and I really like the business model. So I hope you will join us on the call on Thursday evening to learn more about it.
From Skip McGrath's blog.
I still find it interesting that rather than attacking the points I made in my review, McGrath attacked me personally.
Anyway, after Skip's attack, I followed up with this message to my readers:
I am ashamed. Please accept my apology. . .

Earlier this week I spoke out about an opportunity called Exponent Trading Company.

You can read my review at:

http://news.iwantcollectibles.com/reviews/exponent-trading.shtml

Since then I have been attacked for bashing something I know nothing about and seeking to profit from my attacks.

Skip Mcgrath on his blog says:

"In my opinion, Terry is shamelessly taking advantage of the Exponent Trading buzz to build his list and make money for himself while criticizing something he knows nothing about."

OK I am shamelessly exploiting this situation. I admit it.

Not only do I admit it, but I am PROUD OF IT.

James Jones says:

"Personally, I think Terry Gibbs is a genius. I don't just mean a "genius" the way internet marketers throw around the word "genius" when talking about their internet marketing buddies. I've had many telephone conversations with Terry that have lasted for hours and hours just talking about eBay and internet marketing, business and life in general. I know a genius when I see one and Terry's a genius.

And he knows his stuff too. Terry's been a consignment seller for years. He's written a manual on consignment selling that he's now giving away for free to prove that he's not bashing Exponent Trading just because he has a competing product.

I respect that but I don't think it really proves anything. People have to go to his website to get the book. He'll still get people to sign up for his list. He'll still sell stuff on the backend. It's smart marketing but trust me - Terry's getting something out of giving away his Consignment Book."

James also says we should wait to pass judgment on this opportunity. He hasn't told anyone to sign up, he's just telling people to wait and see what happens.

I don't have to wait. I can see this is not something I want to be involved in.

Let me be clear here.

I teach my students skills.

James Jones says I have some marketing skills. Should I be ashamed of using my skills to attract new students?

Not if I am using them in an ethical manner.

None of my students will end up spending hundreds of dollars chasing a pipe dream. None of my students will get upset with me because I protected them from this farce

If you are going to participate in Skip's Pipe Dream selling conference call tonight, here's a few things for you to consider:

Listen to them tell you to just do only $200 a month in sales through the exponent system to avoid the extra fees above the $200 level. You need $200 in sales to meet personal trading volume requirements.

Telling people to just do $200 a month in sales to meet minimums demonstrates there is no real product. If this was a real eBay deal, you'd want to list everything through the system. The real reason for the management system is to avoid being shut down by the FTC for running a pyramid scam.

Listen to them tell you how to reach your minimum without doing any sales so you can collect payments points towards there being no benefit to using the system. They'll tell you this is cheating, but explain step by step how to do it.

Huh?

I bet you'll hear both those things tonight.

If they let you ask questions, ask this question before you sign up:

"HOW MANY PEOPLE DO I HAVE TO SIGN UP BELOW ME IN ORDER TO BREAK EVEN?"

No one has been able to figure that number out.

They are going to promise you skill building materials. Just like the promise of future income, these will be available in the future.

Huh?

Wouldn't you need them NOW?

This is about CREDIBILITY.

In six months when the people who sign up for this "opportunity" realize there is no pot of gold under the rainbow, I'll still be here.

In a year when the pyramid scheme collapses I'll be here.

You'll still like me. You'll still believe me.

I'll still have CREDIBILITY.

Will Skip McGrath be here?

I doubt it.

Terry Gibbs
After I sent the above email to my readers, Skip McGrath sent me this short email:
Terry - I am really disappointed in you. You were always one of the good guys in this industry that I respected. Guess I was wrong.
Skip McGrath PS: Feel free to post this comment in your blog too.
I guess I lost Skip's respect. Of course that means little to me. If he thought I would stand by while he ripped off his students without warning mine, he's an IDIOT.
Actually, I already proved he's an IDIOT.
Anyway, now Skip's changed his tune.
McGrath says he didn't spend much time on Exponent since promoting it to his list, but now he's looked at it again and decided to back away.
Never mind.
NOT GOOD ENOUGH.
Has he apologized?
No. He's just saying he wants nothing more to do with them and is moving on.
That's not good enough.
He must still think his readers are IDIOTS.
Never mind.
Has he offered to give back anyone's money who signed up because of his backing this sham?
No. Never Mind!
I like Skip's reversal. Basically McGrath's saying the thing is not what he said it would be. He said earlier he was going to be helping them build out the training materials.
Now he's saying,
"Other than writing abut it in my newsletter I don't really plan to have any involvement."
The only way to succeed in MLM is to make sure the people under you are successful. You can't just sign them up and hope they do something.
That's an illuminating revelation. Basically Skip McGrath is admitting that he doesn't care if his readers succeed or not. He only cares that there is a chance he'll get a payoff.
A chance of a payoff means he'll ignore any doubts.
Also it seems like he's saying he wasn't pushing it. Just saying you should look into it and decide for yourself.
Bullshit.
Skip was pushing this and ATTACKING me for telling people to stay away.
Ok, so I shamelessly took advantage of the exponent buzz to attract people to me. In fact, I am still doing that with this review.
How many of the people I attracted lost hundreds of dollars as a result of my actions?
None.
How many of Skip's idiots readers lost money?
I have no idea, but they should be taking him to task.
Skip McGrath eBay Teacher
Reviewed by
Terry Gibbs
.
Rated:
1

/

5
NOTE Added 2011. Since the events explained here, Skip has promoted at least one other failed MLM opportunity to his newsletter list.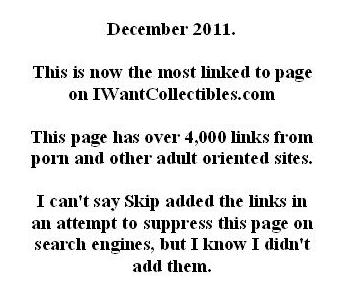 "The IWantCollectibles Guide to Ebay Sales"
is now available for immediate download.
---
Many of the articles and free reports here on IWantCollectibles were originally sent to readers of my Antiques and eBay Newsletter. Not all articles make it onto the website, and readers also get notices of free reports and special offers.
Most Popular Articles on IWantCollectibles